Permanently lubricated motors, blowers & fans provides you
maintenance free performance. Designed for 24 hour continuous use.

The
PacWrap®
Turbo-Aire™
s
hrink tunnel gives superior results with virtually any shrink film, yet operates on standard 120 volt power (220/240 volt 50/60Hz available) Fully insulated heat tunnel chamber for energy efficiency.
Separate thermostats for the heat tunnel chamber and the variable speed conveyor belt assures complete heat coverage for fast, uniform shrinkage with recirculated heated a
ir - the most energy efficient shink tunnel in this size category.
Isolated Electronics: All electrical components on the
PacWrap® Model
1520
Shrink Tunnel
are located away from the tunnel chamber for safety, and long life.

Perfect
f
or
s
hrink
b
ands, shrink sleeves, shrink tubing and shrink films.

The Automatic Cool-Down cycle after use saves time and money for years to come!

How? By eliminating the need to turn off the heat tunnel chamber and belt heaters prior to turning off the system. With automatic cooling, you simply set the heat and speed settings to provide the perfect shrink, then and leave them set.
When you're finished shrinking, leave the heat and conveyor settings as you liked them and simply turn-off the main power switch. The heaters then shut-down while the motor, blowers and fans continue to run until a safe stopping temperature is achieved. (About 10 minutes). Then the tunnel safely and automatically shuts itself completely off. No more paying someone to stand around and "watch" while the tunnel cools down before finally turning off the power.

The automatic cooling cycle greatly extends the life of the motors, blowers and fans while eliminating the daily setup of correct temperatures and conveyor speeds, a feature found on shrink tunnels costing thousands of dollars more!

The PacWrap® 1520 Shrink Tunnel with its huge 20" high by 15" wide heat shrink tunnel chamber opening is the answer for fast and efficient shrinking of shrink wrap film over Gift Baskets and or other high profile packages! And the side ducted airflows can be user adjusted so the 1520 can be used for low profile packages such as CD's or DVD's as well! The 1520 is as versitile as it is energy efficient. So whether you need to shrink wrap fruit and gift baskets, or shrink a tamper-evident shrink band on the top of a tall container, the Model 1520 will do the job.

Built for continuous use - at an affordable price - works with virtually any standard shrink film, shrink bag, or shink band, the PacWrap® 1520 Shrink Tunnel is the easy answer for your high profile package shrink wrapping needs.

Perfect for Shrink Bands

Proudly made in the U.S.A. by ATW Manufacturing Co., Inc., Eugene, Oregon

Overall Dimensions

35.5" Long x 21" Wide x 61.5" High

-

overall height with optional $7

8

5.00 heavy-duty stand

with full length shelf and locking casters.

Tunnel Chamber Opening

20" High x 15" Wide

Tunnel Conveyor

Variable Speed Belt 0-50 Feet Per Minute

Tunnel Fan

Industrial Squirrel Cage

Tunnel Chamber

Fully Insulated Recirculated Heated Air For Energy Efficiency

Heat Controls

Individual Thermostats for Tunnel Chamber and Conveyor Belt Heat

Power Requirements

110/120 Volts standard household type current (220/240Volt, 50/60 Hz available)

Finish

Extremely Durable Powder Coating

Warranty

One Year Limited Parts Warranty

Available Options

220/240 volt version with 3.5kw heaters ($550.00).

Also available is a 24 inch long roller take away conveyor ($495.00), solid state PID loop temperature controller - +/- 2 degree temperature control ($275.00) instead of the standard thermostat, and we build custom extended tunnel chamber length and widths up to 24 inches wide by 30 inches high.

Regardless of your requirements, we can provide it. And help you too!
Other Custom Tunnel Sizes Available. Call or email

PacWrap® 1520 Shrink Tunnel
Built With Pride in America
By ATW Manufacturing Company, Inc. Eugene, Oregon
Phone: 800 759-3388 Fax: 541 484-1493
email.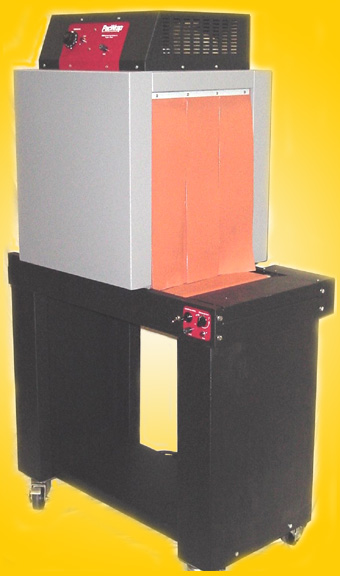 Shown with optional heavy-duty stand ($785.00)
For complete current or special pricing, call 800-759-3388 or email
HOME | ABOUT US | CONTACT US | GENERAL INFORMATION
© 2003 - 2022 ATW Manufacturing Company, Inc.
High Performance Fully Insulated Tunnel Chamber 20" High 15" Wide!
Automatic Cooling and Shutdown
After Use.
No Need to Ever Reset Controls!
Variable Speed Conveyor With Adjustable Conveyor Belt Heater
Built to run 24 hours a day!


The Model 1520 with optional heavy duty stand & Casters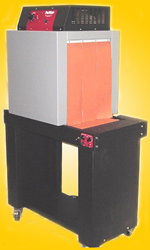 Variable Speed
Conveyor With Infinitely Adjustable Thermostat for Conveyor Belt Heat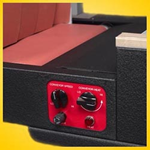 Tunnel Electronics are Isolated From Heat Chamber For Long Life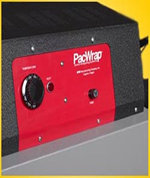 Huge 20" Chamber Height/Perfect for Baskets or Any Tall or Large Item