Tite-Pallet™ Stretch Wrap for pallets

Factory Direct - Discount Pricing

ATW Stretch Wrap for Pallet Wrapping - Breakthrough Micron Tite-Pallet™ super strong technology.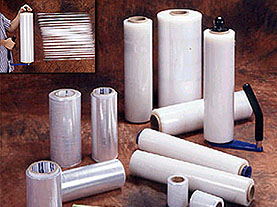 COLORS AVAILABLE
ATW Shrink Wrap Tite-Pallet™Stretch Film for pallet wrapping is the next generation of LLDPE films.
This new cast stretch wrap is exceptionally clear, very quiet coming off the roll, and offers SUPER STRENGTH, much more than standard blown films. This cast stretch wrap saves you money, with no loss of performance! Much clearer and better looking too! It's in stock!


MAJOR COST SAVINGS, exceptional clarity and performance makes ATW
Tite-Pallet™stretch film the perfect choice for demanding pallet wrapping applications.
Won't "Neck Down".

Discount Pricing! Factory Direct!

Super cling / Super strong / High performance / Highest yield per roll = Real $avings!

18"wide, 1,500' Handwrap rolls, 19 Micron (approx. 80 gauge) thickness

4 Rolls to the case. $68.00/case

10+ cases $61.00/case -- 24+ cases $56.00/case

Free Freight with 48 Case Order! (In continental US), call us for very competitive 48 case full skid shipping rates to Alaska, Hawaii and Puerto Rico.

Call or email and $ave on a superior pallet wrap. - 800 759-3388 - See for yourself!

Order a case today! Ask us about our Opaque Security Films - Printed Pallet Wrap and heavy duty pallet wrap dispensers.



For complete current or special pricing, call 800-759-3388, or email us at: sales@atwmfg.com We also offer a complete line of shrink wrap films, shrink wrap accessories and shrink wrap supplies as well as shrink tubing, gift basket dome shrink bags, shrink bands, high speed over-wrap shrink machines, L-sealers, shrink wrap tunnels, heat guns, PTFE Non Stick Heat Sealing tape, service kits and sealer repair kits for almost any brand of heat sealing or bag sealer equipment.
For complete current or special pricing, call 800-759-3388 or email
HOME | ABOUT US | CONTACT US | GENERAL INFORMATION
© Copyright 2003 - 2019 ATW Manufacturing Company, Inc.