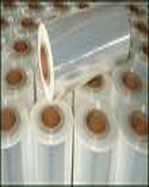 ATW Crystal Clear™ #990 Polyolefin Shrink Wrap Films Will Save You Money!
ATW #990 shrink films are high quality, co-extruded, multi-layered, polyolefin shrink films. They are available in identical put-ups and roll sizes as Cryovac's D films or Clysar films; same footage per roll, same gauge, same or better performance! AT A FRACTION OF THE PRICE!

#990 is an extremely clear, high sparkle film that is proven in production. Durable seals and excellent shrinkage gives it appeal across a broad range of shrink wrapping applications. It's compatible with any application using Cryovac or Clysar, and is especially suited for semi- automatic machines to manually operated.
Available in 45 gauge, 60 gauge (4,375 ft centerfolded roll length), 75 gauge (3,500 ft centerfolded), 100 gauge (2,625 ft centerfolded), from 6" to 30" centerfolded widths. Irradiated films, soft shrink etc. Call or fax for special applications or roll widths. Also available as flat sheeting.
32 rolls per pallet, landed at your door...freight free! (Mix and match widths and gauges). WITH ATW #990 THERE'S NO NEED TO CONSTANTLY DOWN GAUGE... GO FOR BETTER PACKAGE PROTECTION. You'll save money with a higher level of shrink wrap packaging protection!
Cryovac, Clysar, Syfan, Intertape Higher Volume Users, Call us for a QUOTE! You won't be disappointed!
ATW #990 has a wide sealing temperature range. Very fast, strong seals.
About 350° to 360° (F) seal temp with bare wire or hot knife, only slightly higher with non-stick PTFE heat sealing tape or fabric. (Approx 250° to 300° tunnel shrink temp...gauge dependent)
Short dwell time required to trim seal on most equipment even in frozen food, commercial printing, cd/dvd duplication and software manufacturing environments.
Minimal buildup on heat wires or hot knives.
Easily shrinks at 250° to 300° (F) depending upon the product size, conveyor speed and shrink tunnel hot air circulation.
Shrink rate is slightly faster than Cryovac, Clysar, or Intertape equivalents.
Very heat stable.
Very high clarity, high durability and puncture resistance
High retail sparkle and gloss, very low haze
No see-through or color distortion
Minimal dog ears when compared to other polyolefin shrink films
No blocking and/or static related centerfold separation problems
No additives to accumulate on wires or inverting heads or trays.
No film drag / medium slip / perfect camber / (Dances through dancer bars!)
Heat stable, 36+ month shelf life in roll stock form.
Interested? Give us a call or email

Manufacturing Co., Inc. (800) 759-3388